BiOS Student 3-Minute Poster Presentations
Students selected to present a poster in one of the BiOS poster sessions offer 3-minute rapid-fire overviews of their poster research. Presentations are judged on content and presentation effectiveness by representatives from the Editorial Boards of Neurophotonics and the Journal of Biomedical Optics.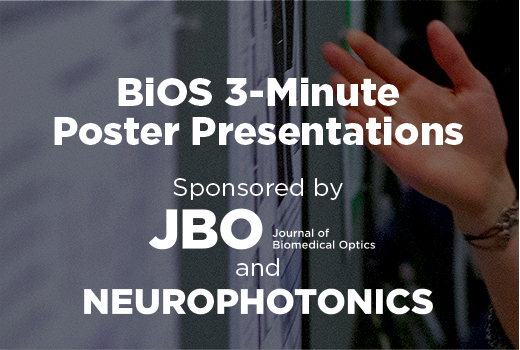 BiOS'22 3-Minute Poster Prize Winners
Judges:
JBO Associate Editor Jana M. Kainerstorfer (Carnegie Mellon University)
JBO Associate Editor Amy Oldenburg (University of North Carolina at Chapel Hill)
Neurophotonics Associate Editor Shy Shoham (New York University)
Hosted by JBO Editor-in-Chief Brian Pogue (University of Wisconsin–Madison)

[Inperson event in 2022]
Kaitlin Dunn, University of Rochester (USA)
"Modifying the refractive index of a cell's immersion media isolates organelle- from whole-cell scattering"
Phuc Nguyen, University of Michigan Kellogg Eye Center (USA)
"Longitudinal Visualization of Choroidal Neovascularization using Gold-Nanorod-Enhanced Multimodal Photoacoustic Microscopy and Optical Coherence Tomography Molecular Imaging"
Georgia Harris, University of Birmingham (UK)
"Portable and Eye-Safe Raman Spectroscopy for Point-of-Care Neurological Diagnostics"
_____________________________________________________________________________
BiOS'21 3-Minute Poster Prize Winners
Judges:
JBO Associate Editor Jana M. Kainerstorfer (Carnegie Mellon University)
JBO Associate Editor Mark Niedre (Northeastern University)
JBO Editor-in-Chief Brian Pogue (Dartmouth College)
Neurophotonics Editor-in-Chief Anna Devor (Boston University)
Neurophotonics Associate Editor Anna Wang Roe (Zhejiang University)
[Online event in 2021]
---