Proceedings of the International Conference on Space Optics (ICSO)
The 1991-2020 archive of the ICSO Proceedings is a resource made freely available to serve the space optics and astronomy communities.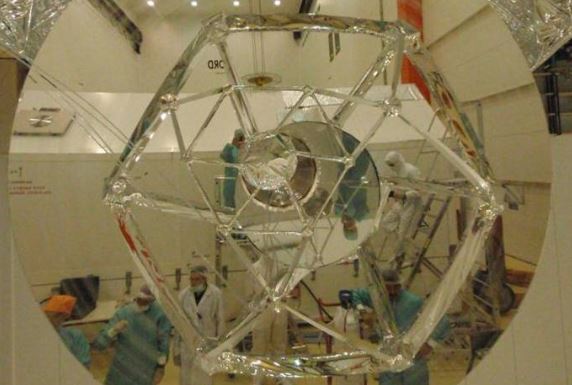 ABOUT ISCO
The International Conference on Space Optics is the largest worldwide meeting of experts working in all disciplines of Optical, Optoelectronic and Photonic Technologies for Space Applications. It is organised in collaboration of ESA and CNES. The scope of ICSO is to bring together the Space Optics Community and exchange information and ideas on the Research, Development, Qualification and Flight Experience of using optical technologies for space missions. Technology experts meet Mission experts to address the lessons learnt from past developments and identify the next significant developments in employing lightwave technologies and techniques used in all types of Space Missions.
Bruno Cugny, Nikos Karafolas, Zoran Sodnik ( Proceedings of SPIE 11852)
Bruno Cugny, Nikos Karafolas, Zoran Sodnik ( Proceedings of SPIE 11180)
Bruno Cugny, Nikos Karafolas, Zoran Sodnik ( Proceedings of SPIE 10562)
Bruno Cugny, Nikos Karafolas, Zoran Sodnik ( Proceedings of SPIE 10563)
Bruno Cugny, Errico Armandillo, Nikos Karafolas ( Proceedings of SPIE 10564)
Errico Armandillo, Bruno Cugny, Nikos Karafolas ( Proceedings of SPIE 10565)
Josiane Costeraste, Errico Armandillo, Nikos Karafolas ( Proceedings of SPIE 10566)
Errico Armandillo, Josiane Costeraste, Nikos Karafolas ( Proceedings of SPIE 10567)
Josiane Costeraste, Errico Armandillo ( Proceedings of SPIE 10568)
Georges Otrio ( Proceedings of SPIE 10569)
Georges Otrio ( Proceedings of SPIE 10570)
Guy Cerutti-Maori, Philippe Roussel ( Proceedings of SPIE 2209)
Thierry M. Dewandre, Joachim J. Schulte-in-den-Baeumen, Emmanuel Sein ( Proceedings of SPIE 2210)
Guy Cerutti-Maori ( Proceedings of SPIE 10571)
---