Journal of Micro/Nanolithography, MEMS, and MOEMS
Editor-in-Chief: Chris A. Mack, Lithoguru.com, USA
The Journal of Micro/Nanolithography, MEMS, and MOEMS (JM3) publishes papers on the science, development, and practice of lithographic, fabrication, packaging, and integration technologies necessary to address the needs of the electronics, MEMS, MOEMS, and photonics industries. The wide range of such devices includes biomedical microdevices, microfluidics, sensors and actuators, adaptive optics, and digital micromirrors. The scope is broad to facilitate synergy and interest between the communities served by the journal.
Journal of Micro/Nanolithography, MEMS, and MOEMS
Bioinspired low noise circular-shaped MEMS directional microphone
Asif Ishfaque, Ashiqur Rahaman, and Byungki Kim
Special Section on Challenges and Approaches to EUV-Based Patterning for High-Volume Manufacturing Applications
Guest Editors: Sebastian Engelmann, Rich Wise, Roel Gronheid, and Nelson Felix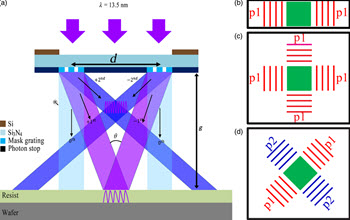 Studying resist performance for contact holes printing using EUV interference lithography
Xiaolong Wang et al.
November 2018
TOP DOWNLOADS
from the Journal of Micro/Nanolithography, MEMS, and MOEMS
---
Joshua M. Duran, Andrew Sarangan (2017)
---
Martin Burkhardt (2018)
---
Chris A. Mack (2017)
---
Mohammed Ashraf, Sree V. Sundararajan, Gianluca Grenci (2017)
---
Tod V. Laurvick, Ronald A. Coutu, Jr., James M. Sattler, Robert A. Lake (2016)
---
Ruben Maas, M.-Claire van Lare, Gijsbert Rispens, Sander F. Wuister (2018)
---
Peter De Bisschop (2018)
---
Jiyeah Rhie et al. (2018)
---
Gavin C. Rider (2018)
---
Zhanna Santybayeva et al. (2016)
---
Video introduction to the journal
Author benefits:

Rigorous and prompt peer review (median time from submission to first decision: 36 days)
Rapid, e-first publication of articles (median time from acceptance to online publication, including copyediting and typesetting: 24 days)
Professional copyediting and typesetting
Free online color figures
Free inclusion of videos and multimedia
Open access publication option at a low cost
5 free downloads from the SPIE Digital Library for authors

Integration with Code Ocean, a cloud-based code development and publishing platform
Become a Reviewer
CONTRIBUTE TO YOUR FIELD BY SHARING YOUR EXPERTISE

Access & Subscriptions
INFORMATION FOR
INSTITUTIONS & INDIVIDUALS
Submit a
Manuscript
REACH A WIDE AUDIENCE FOR YOUR RESEARCH