Journal of Nanophotonics
Editor-in-Chief: Ali Adibi, Georgia Institute of Technology
The Journal of Nanophotonics (JNP) is an online journal focusing on the fabrication and application of nanostructures that facilitate the generation, propagation, manipulation, and detection of light from the infrared to the ultraviolet regimes. The scope extends to theory, modeling and simulation, experimentation, instrumentation, and application.

Chirped multilayer quantum-dot mode-locked lasers with dual-wavelength and ground-state lasing emissions
Yu-Chen Chen, Pin-Hsien Hsieh, and Gray Lin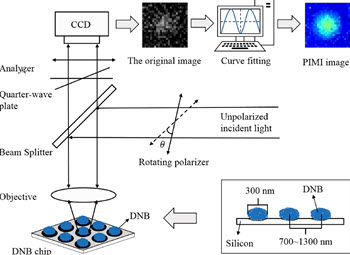 Spatial resolving method on DNA nanoballs with polarization parametric indirect microscopy
Weiping Liu et al.
Special Section on Optical Manipulation and Structured Materials
Guest Editors: Takashige Omatsu, Masaaki Ashida, and Yoshihiko Arita
November 2018
TOP DOWNLOADS
from Journal of Nanophotonics
---
Mohd Sharizal Alias et al. (2018)
---
Jung-Wook Min et al. (2018)
---
Yanan Guo, Jianchang Yan, Yun Zhang, Junxi Wang, Jinmin Li (2018)
---
Farzia Karim, Todd B. Smith, Chenglong Zhao (2018)
---
Ionut Gîrgel et al. (2016)
---
Daniele Vella et al. (2016)
---
Mirsaeid Sarollahi, Stephen J. Bauman, Jonathan Mishler, Joseph B. Herzog (2016)
---
Asaf Shoval, Michal Tepper, Jenny Tikochkiy, Leah Ben Gur, Gil Markovich, Yona Keisari, Israel Gannot (2016)
---
Zachary T. Brawley et al. (2018)
---
Bekim Osmani, Tino Töpper, Bert Müller (2018)
---
Video introduction to the journal
Author benefits:

Rigorous and timely peer review process
Rapid publication (median time from acceptance to publication: 22 days)
Professional copyediting and typesetting
Free online color figures
Free inclusion of video and multimedia content
5 free downloads from the SPIE Digital Library for authors
Open access publication option at a low cost
Eligibility for annual best paper award
Integration with Code Ocean, a cloud-based code development and publishing platform
Become a Reviewer
CONTRIBUTE TO YOUR FIELD BY SHARING YOUR EXPERTISE

Access & Subscriptions
INFORMATION FOR
INSTITUTIONS & INDIVIDUALS
Submit a
Manuscript
REACH A WIDE AUDIENCE FOR YOUR RESEARCH